TECH-NET Professional is an elite performance network where independent service facility members have a common goal of being world-class automotive service facilities. The TECH-NET Professional program provides superior customer service by combining high-quality Advance Auto Parts parts, skilled automotive technicians and innovative consumer marketing programs.
The TECH-NET Professional Mission Statement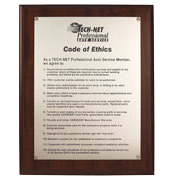 TECH-NET Professional is committed to serving you, our customer, with professional automotive repair at a reasonable cost with qualified technicians. We use quality Advance Auto Parts parts, guaranteed coast to coast. We stand on sound business principles and uphold high ethical standards. Our goal is to make your automotive repair experience friendly and successful.
Testimonials
Miles S.
While traveling through the Ft. Collins area last Friday, I experienced a problem with the brakes on my camp trailer. I spring had broken and caused my brake to bind up. I stopped on a couple of shops along Collage. One of the shops didn't have time but called Friesens for me. The guys at Friesens said to bring it right over and they could take a look. Once we arrived the guys dropped what they were working on and went to work on my trailer, I knew they were busy as the shop was full of other customers vehicles. Long story short, the guys at Friesens saved our weekend in the mountains. Another great thing is they didn't try to gouge me out of a bunch of money and they were very quick. I have a couple of other projects that need repair and I will definitely take then to Friesens Auto.
view all reviews