As a member of the TECH-NET Professional program we agree to: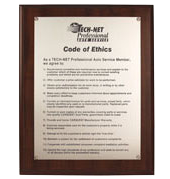 Recommend corrective and maintenance services and explain to the customer which of these is required now to correct existing problems and which are for preventive maintenance.


Offer customers a price estimate for work to be performed.


Obtain prior authorization for all work done, in writing or by other means satisfactory to the customer.


Make every effort to keep the customer informed about appointments and completion deadlines.


Furnish an itemized invoice for parts and services, priced fairly, which clearly identifies any used or remanufactured parts. Replaced parts may be inspected upon request.


Furnish or post copies of any warranties covering parts or service. Use quality Advance Auto Parts auto parts, guaranteed coast to coast.


Provide and honor Advance Auto Parts manufacturer warranties.


Exercise reasonable care for the customer's property while it is being serviced.


Make every effort to fix the customer's vehicle right the "first time".


Maintain a system for fair settlement of customer's complaints.


Cooperate with established consumer complaint mediation activities.


Uphold the high standards of the profession and seek to correct any or all abuses within the automotive industry.


Testimonials
Miles S.
While traveling through the Ft. Collins area last Friday, I experienced a problem with the brakes on my camp trailer. I spring had broken and caused my brake to bind up. I stopped on a couple of shops along Collage. One of the shops didn't have time but called Friesens for me. The guys at Friesens said to bring it right over and they could take a look. Once we arrived the guys dropped what they were working on and went to work on my trailer, I knew they were busy as the shop was full of other customers vehicles. Long story short, the guys at Friesens saved our weekend in the mountains. Another great thing is they didn't try to gouge me out of a bunch of money and they were very quick. I have a couple of other projects that need repair and I will definitely take then to Friesens Auto.
view all reviews